That's why running checks to verify the entities you do business with is both a smart risk-mitigation strategy and a regulatory compliance requirement for many industries. But how do you get started, especially when you have to consolidate all the information you need to make a strategic decision? Appruve Business is the easiest way to verify the legitimacy of any business. With Appruve Business, African businesses can trust business partners, do business intelligently and drive growth! Our data infrastructure allows high-growth businesses to manage risk and compliance at scale, with minimal friction via Web, mobile apps and APIs.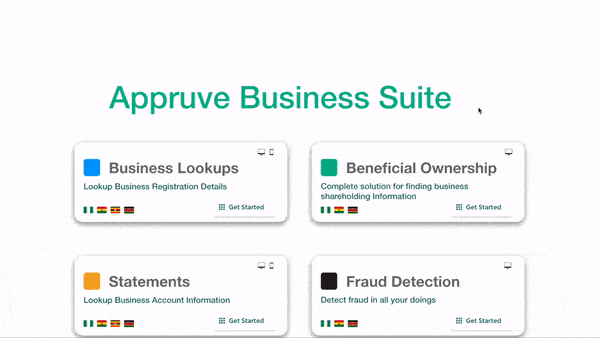 Features of Appruve Business
a. Business Lookup

Verifying the identifier of a business is a crucial part of business verification. When verifying a business identifier, we will verify that the identification number is valid and that it matches the name passed to Appruve Business.

If the business identification number is unable to be verified or does not match the name provided, we will perform a series of lookups to identify alternate names that may be associated.
b. Beneficial Ownership Lookup

We provide a holistic picture of all the people associated with each business. Understanding the details of the ownership structure and executive team of a company is important in helping to maintain compliance with Know Your Customer (KYC) and Ultimate Beneficial Owner requirements, and understand the potential risk or fraud signals about each entity.
c. Financial Statement Request

Appruve Business allows you to get access to high-quality customer consented data from financial accounts (bank and mobile money). With Appruve's financial data API we can help you achieve the following:

- Collect bank statements from your customers.
- Understand customer financial health, this can be leveraged for lending or investments.
- Verify guarantors information.
- Enrich data you have on your customers.
d. Address verification:

Appruve Business is connected to various addressing databases that allows you to verify the addresses associated with the business. We provide tools that allow you to probe into the location of the business.
e. Fraud Database Search

Appruve business is designed to source fraud intelligence from proprietary sources across African networks as well as global databases. You simply search for an attribute associated with the business, such as a phone number, business name, bank or mobile money account, debit /credit card details, and we will return a full profile that matches or not.
Using an automated approach to verify businesses allows you to create more in-depth profiles. The data acquired would help your risk evaluation and vetting process, delivering a more thorough analysis and better protecting the business from risk and fraud.

With appropriate checks, your business can build the necessary trust to safely take on new partners, suppliers and third parties in Africa.

Appruve Business is currently available in Ghana, Nigeria, Uganda, Kenya, and South Africa. We are continuously working to grow our coverage. We have an array of products used in combination by our clients to deliver value.